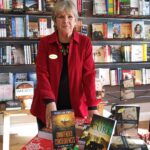 Patricia's writing career began straight out of college as the only English major in her class to graduate with a writing job: in-house copywriter creating advertising and catalog copy, speeches and marketing materials. Over a long career in sales, market development, management, consulting, and international business, she wrote training materials, contracts, grants, brochures, magazine and newspaper articles, newsletters, an e-book and more. You name it, she wrote it. All non-fiction.
With degrees in English and Psychology, and certifications in personal coaching and grief counseling, she's taken her knowledge of the mind and the world and begun applying it to writing fiction.
Patricia is a former Jersey girl transplanted to Georgia with four sons in the States (that's her with them below), grandkids all over the world, and two cats in the yard.