Legacy of The Cure
Be Careful What You Wish For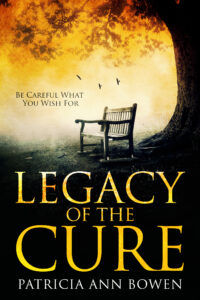 CHARLEE'S PARENTS ARE BOTH DOCTORS
SHE'S LIVING WITH HER MOTHER IN 2038
WHILE THE FATHER SHE NEVER MET RESIDES IN 2058
She's helping protect the family secret as more and more of its facets are revealed to her. Desperate to know her father, when she finally does make contact with him the results are disastrous.
She's forced to shed the naïve image she has of him, and then leave the shelter of her protective mother. She has help from unexpected sources and circumstances: a pair of siblings unlike anyone she's ever known.
Captured both physically and emotionally, Charlee turns her one of her abductors into a friend and learns what she really wants from her own life… and what she can and cannot have.
Ready to find out more?
Buy your own copy from Amazon today!
Buy the Book