Unintended Consequences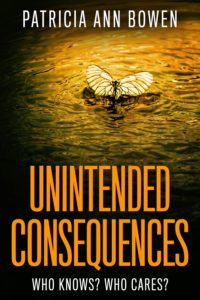 Short tales to read with your morning coffee or your five o'clock whatever.
Inside are sixteen stories and a longer novella, each about smart, strong, complicated women. As life comes at them some suffer the consequences, others enjoy them.
Women loving men… or not, women loving women… or not, women nurturing their families and themselves. Most of them contemporary, some dealing with standards that never change, all of them people you might want to know.
If you like Flannery O'Connor's Southern Gothic twists, meet Shelly Lewis, or at least that's what she says her name is.
Enjoy tales from the #MeToo front? Follow Paula, Samantha, Tammy, and Fran as they pay back their lecherous boss.
Then there's Feather, a Native American girl thrust into the role of caregiver and later torn from her family.
Becca, who orchestrates justice for her son's senseless death.
Rusty, who redefines what the good life means for her.
And more.
Find out which will be your favorite…
Ready to find out more?
Here's what one reviewer had to say about Unintended Consequences: This collection of short stories offers multiple genres to satisfy every reader's taste. From mystery to fantasy to historical fiction to realistic fiction, each story creates well-developed characters who are believable and touch the reader's emotions. Particularly interesting about this collection are the brief autobiographical prologues the author writes before each story. For those, like me, who want to know how the author came up with the topics and events in her stories, this author lets you in on her life experiences that inspire each story before you begin reading. Very satisfying, and very courageous of the author to be so personal.
Buy your own copy from Amazon today!